Acoustic Cities: London-Beirut
Date

Time

Place

City

Project

Format

Tickets

Free, no reservation required.
With

Partners

Optophono, the Institute for Global Prosperity, UCL, the RELIEF Centre

Share
In a city in which noise can often be all-encompassing, how can we find ways to listen to things that are hidden, stories that are unheard, and forms of life at risk of disappearing?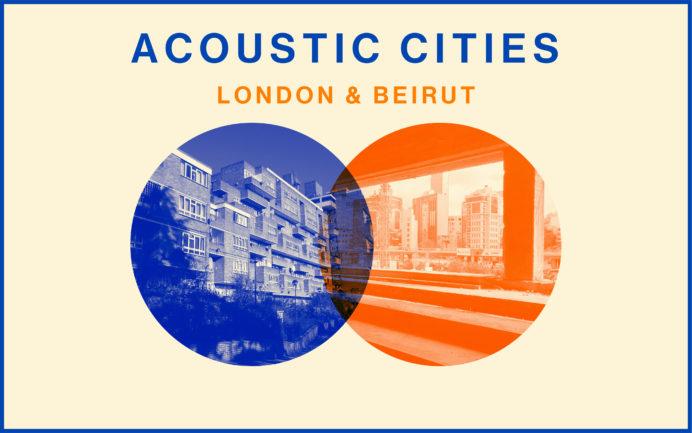 Acoustic Cities: London & Beirut is a collection of works by artists and scholars from Lebanon and the UK. Join us for the Beirut launch of this Optophono edition, which sounds out the spatial traces of memories, cultures, and bodies ingrained into the physical fabric of these two cities.
Following an immersive program of works from the edition, Merijn Royaards, Christabel Stirling, Joan Baz, and Mhamad Safa will discuss their pieces.
Each of the works encodes a methodology for listening and making audible things that have otherwise been hidden or silent – whether through activating spaces acoustically, listening technologically beyond the surface of the daily lifeworld, asking for testimonies otherwise unspoken.
The works offer listeners ways of hearing the richness of their acoustic environments, and language to challenge its problems. In doing so, they will help to frame sound as a shared concern and a shared resource to design and to benefit from.
Mhamad Safa, is a Beirut based. Architect. Composer. Sound Artist. He was a fellow at Ashkal Alwan HWP program 2017-2018 and he is currently an MA student at the Centre for Research Architecture at Goldsmiths University in London. His work revolves around the critique of contemporary spatiality and the politics of sound within institutionalized and militarized environments.
Gascia Ouzounian is Associate Professor of Music at the University of Oxford. She is co-director of Recomposing the City, a group that brings together sound artists, architects, and urban designers in exploring sound in urban environments. She is artistic director of Optophono, a label that publishes interactive music and sound art.
Merijn Royaards is a maker-of-things from sound and cities, guided by convoluted movements through music, art and architecture. He currently works primarily as a DJ-performer and he has recently submitted Altered States, a PhD thesis and installation series exploring the state altering effects of sound and space and movement.
Christabel Stirling is a researcher in ethnomusicology and sound studies. She recently completed a PhD at Oxford University looking at the role of affect and the body in the making of musical publics. She also DJs and is affiliated with the research groups Recomposing the City and Sound Making Space.
Joan Baz is a Lebanese graphic designer and artist based in Beirut. Mainly focused on illustration, printmaking and animation, Joan's work explores oral history, social practices, transmission and memory. Her recent project CD-R is an investigative audio platform probing topics such as memory, displacement and the built environment through voice notes, interviews, collected and produced sounds.
Other artists in this edition include: Nathalie Harb, Chrissy Stirling, Nadim Mishlawi, Youmna Saba, Omaya Malaeb and Gerard Gormley.