TM opens a Paris office and hosts its inaugural French board meeting
Posted on 10 September 2019
In March 2019, Theatrum Mundi created a subsidiary in France in the form of a non-profit association loi 1901 named Theatrum Mundi Europe.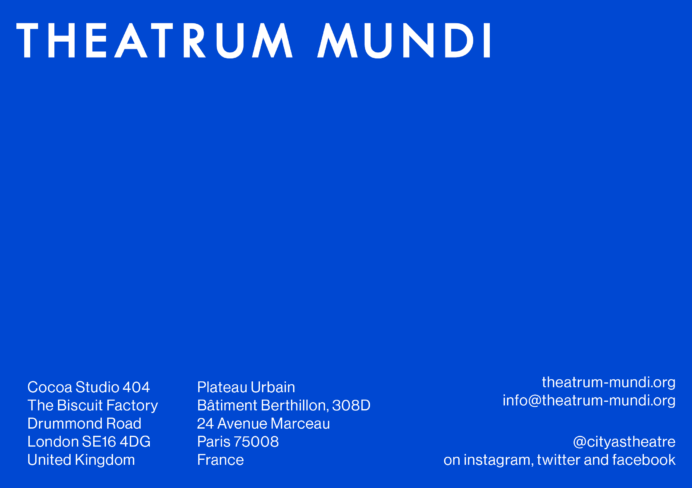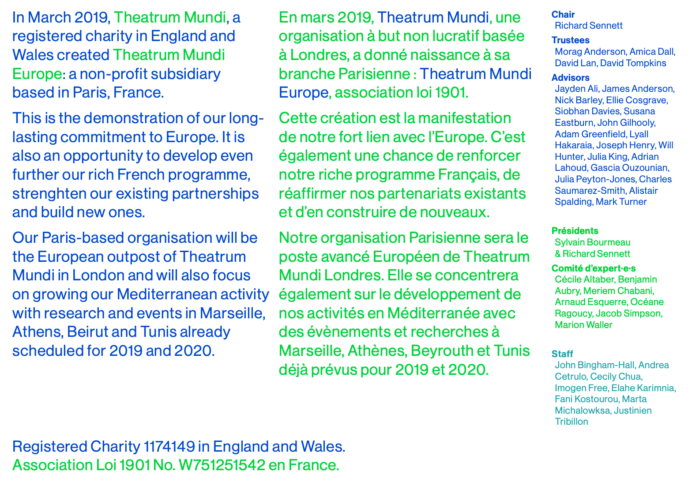 With the threat of the UK exiting the EU, we are more determined than ever to keep operating as a European organisation and strengthen the collaborations we foster across borders.
Today, Tuesday 10th September 2019, we will host the first meeting of our French administrative council, a group of experts who have volunteered to help our UK-based team and board further develop activities in France and across the EU. It includes Cécile Altaber (CGET), Benjamin Aubry (iudo), Meriem Chabani (TXKL), Arnaud Esquerre (IRIS), Océane Ragoucy (TVK), Jacob Simpson (Columbia University Paris), and Marion Waller (Ville de Paris). Journalist, editor and writer Sylvain Bourmeau is co-president of the French association, along with Richard Sennett who represents the board of our UK charity, which founded and oversees the French subsidiary.
We are also excited to be opening an office at Espace Marceau, a building in Paris' 8th arrondissement being managed by our colleagues Plateau Urbain as affordable creative workspace and emergency housing for women. From this base we'll be managing projects and events planned for Marseille, Beirut and Athens. Come and visit us here.